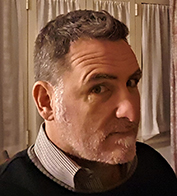 Hello,
My name is Marco Laudazi and I am a PADI OPEN WATER SCUBA INSTRUCTOR.
Since october 2014 I've been working at 5 STARS PADI CENTRE BIG BLUE DIVERS of Rome, early as DIVEMASTER and now as OPEN WATER SCUBA INSTRUCTOR.
On summer 2015, I started working as a dive guide in a diving center in Ostia (Rome), ROMA DIVING CENTER, which operates in the "Tor Paterno" Marine Protected Area.
I took my first certification with the FIPSAS/CMAS didactics in 1997.
Since September 2011, Iíve started several courses with the aim to become scuba pro, and nowÖthatís it; on September 30th 2015 I became OPEN WATER SCUBA INSTRUCTOR.
I dived in different country of the world, in different conditions; I dived in Thailand, Egypt, Mauritius, Spain and, of course, in Italy.
I attended an English course for two years at Wall Street Institute, from 2004 to 2006.
I speak a bit of Spanish too.
On may 2014, Iíve got the boat license that allows me to conduct motor and sailing crafts up to 24 meters of length without limits on the motorization or the distance.